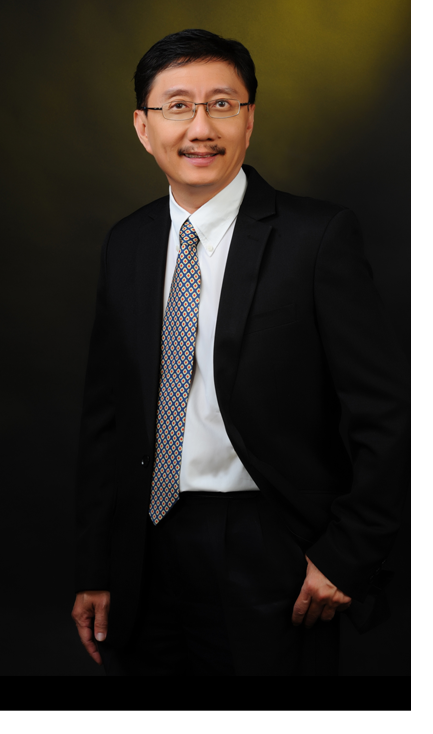 Adj. Assoc. Professor Goh Kong Yong
Previous Head of the Division of Ophthalmology (Changi General Hospital, 1997 to 2004),
Deputy Director (National Health Group Eye Institute, 2005 to 2013),
Head of Neuro-Ophthalmology Department (Tan Tock Seng Hospital, 2005 to 2013),
Medical Director (Dr Goh Eye Neuro-ophthalmic & Low Vision Specialist, 2013 to present)
Academy of Medicine Silver Medal 1981
MOH HMDP Fellowship Award In Neuro-Opthalmology 1993
MOH HMDP Fellowship Eye Movement Disorders 2006
Excellent Service Award (Silver) 2005
Excellent Service Award (Silver) 2006
MOH HMDP Fellowship Award In Vision Rehabilitation 2012
Long Service Medal (2014) (MOH) National Day Award
Professional Qualifications:
MBBS (Singapore)
FRCS (Edinburg, UK)
FRCOphth (London, UK)
MMed (Ophthalmology, Singapore)
FAMS (Ophthalmology, Singapore)
In 2013, Prof Goh's love for clinical work prompted him to set up his own practice at Mount Elizabeth Novena Hospital where he could devote all his time to patient care. This marked the debut of Dr GOH EYE NEURO- OPHTHALMIC & LOW VISION SPECIALIST, an eye specialist clinic that prides itself in giving premium eye services at affordable prices.
Even so, Prof Goh continues to serve as a visiting consultant to Tan Tock Seng Hospital (TTSH),
National University Hospital (NUH) and National Neuro-Science Institute (NNI). He is a founding member of the Asian Neuro-Ophthalmology Society which mentors and trains young ophthalmologists in the region.
Besides specializing in treating general eye conditions like Cataracts, Retinal Disorders, Glaucoma, Diabetic Retinopathy, Dry eyes and Eye trauma, Prof Goh has a special interest in Neuro- ophthalmology; a field of study in Ophthalmology
that treats complex, unexplained vision problems related to the brain such as Double vision, Sudden vision loss, Ptosis (droopy eyelids), Optic Neuritis (inflammation of the optic nerve) and Myasthenia Gravis (neuromuscular disease).

As a doctor, there is no greater joy than to help my patients see well again; the reward is priceless,"
said Prof Goh.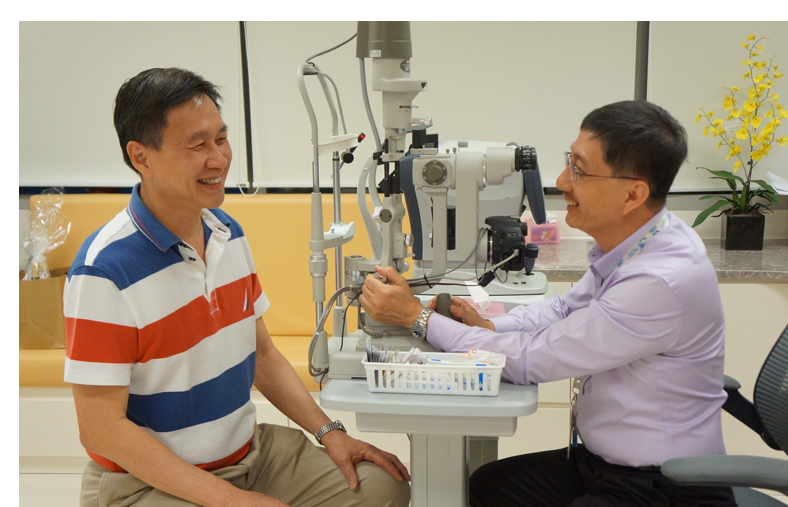 Prof Goh received his Neuro-ophthalmology fellowship programme at the world renowned Bascom Palmer Eye Institute ("ranked #1 Eye Hospital for 15th time" by US News and World Report 2016). He was privileged to be under the tutelage of two leading experts in Neuro-ophthalmology; Professor Glaser and Dr Schatz. To keep up with new medical advancement in treating vision disorder, he undertook sub-specialty training in 'Eye Movement Disorders'.
At Royal Prince Alfred Hospital, Sydney, Australia, he was under the tutelage of Professor Michael Halmagyi and learnt vision rehabilitation with Professor Suzanne Trauzettel-Klosinski in the Low Vision Centre, Tuebingen, Germany. Professor Goh brought back to Singapore a therapy that offers hope to stroke patients in vision restoration. As a neuro-ophthalmologist, Prof Goh works closely with fellow colleagues in the various specialties of ophthalmology, neurology and rehabilitation so as to offer holistic treatment for stroke patients, patients suffering from
brain-related visual issues or complex visual problems like sudden vision loss.
This affable doctor is also adept with babies and children. He treats them for pediatric conditions like Lazy Eyes, Eye Allergy, Atropine Myopia Control Management & Spectacles Prescription.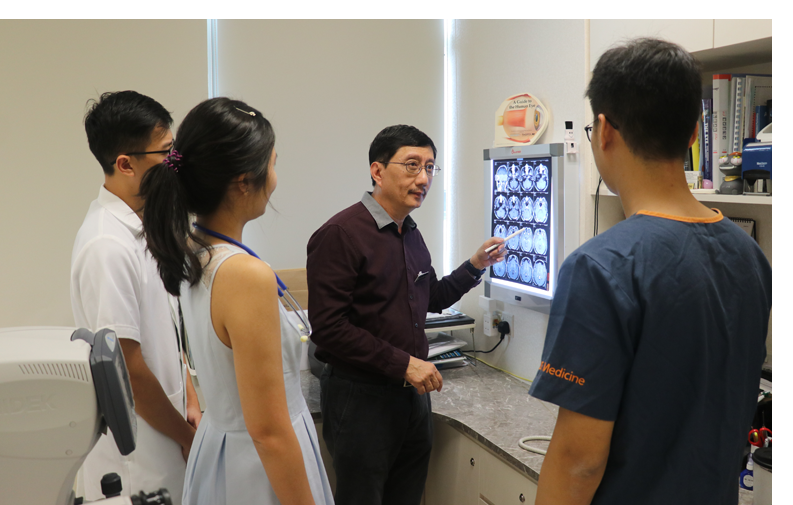 "Medicine is about sharing knowledge and creating a legacy that will take the next generation to a level we could only imagine," said Prof Goh.
Prof Goh loves to mentor medical students and junior doctors. To him, medicine is about sharing one's knowledge, advancing medical treatment and improving patients' lives. Since 2010, he had undertaken the added role of a Programme Director and Senior Tutor to advise, counsel and guide residents and medical students, thus contributing actively to the National Healthcare Group (NHG) as well as Singapore's two medical schools: Yong Loo Lin School of Medicine (NUS) and the Lee Kong Chian School of Medicine (NTU).